Dressing to Dine: Dress Code for Sky Bars in Bangkok
---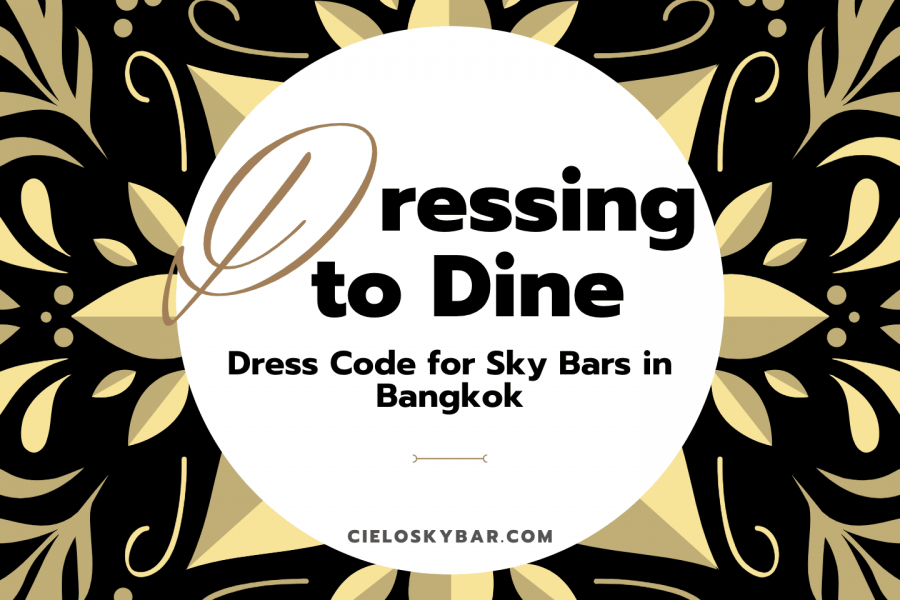 Cielo Sky Bar Dress Code:

Smart Casual Dress Code. Slippers, flip-flops, athletic apparel and backpacks are not permitted. Example: Gentlemen can wear long trousers, closed shoes and sleeved tops. Women can wear a pair of black pants, with a stylish top and closed shoes or high heels. 
Thailand has managed to develop a nightlife side that fulfils the highest standards. Bangkok is known to have some of the best Sky bars in Asia. The bars are not only famous for their incredible view but also their excellent cocktails.
Now it comes to the question, what should you wear on a night out at these sky bars? People show up with different fashion styles that range from semi-casual to business elegant. If at all, you have no idea about the different dress codes when going out for a drink to one of these luxurious Bangkok sky bars, worry not. Below is a list of dress codes acceptable in these areas.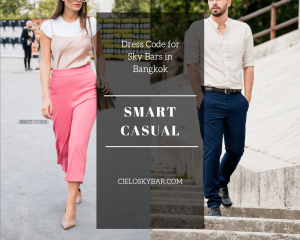 Smart Casual Dress Code for Sky Bars in Bangkok
Most sky bars in Bangkok allow smart casual. Some of these sky bars that allow this type of dress code include the popular Vertigo and Moon Bar. Our bar, Cielo sky bar & restaurant, bar dress code is also smart casual. This Sky bar dress code is widespread among the rooftop bars in Bangkok. 
What Is a Smart Casual Dress Code?
Smart casual is a somewhat ambiguous dress code that calls for polished yet relaxed attire. Certainly, this is where you are not permitted to wear open shoes or sportswear. You can, however, put on closed shoes, men trousers and a shirt. They don't allow backpacks, flip-flops or slippers. You are also not allowed to walk in with athletic apparel.  Men can wear long trousers, closed shoes and sleeved tops. Women can wear a pair of black pants, with a stylish top and closed shoes or high heels.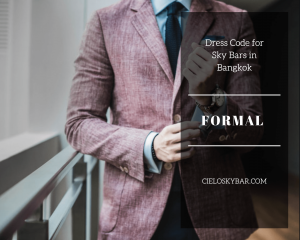 Formal Dress Code for Sky Bars in Bangkok
This is yet another Sky bar dress code Bangkok. It is most popular in Sky bars that often hold private parties and those that are frequented by celebrities. Bars that emphasise this dressing code include The Loft at the Waldorf Astoria, Cru Champagne bar and Above Eleven. 
What Is a Formal Dress Code?
Formal dress code means that you have to put on a tie, a shirt with closed shoes. You are not allowed to wear singlets or shorts. Ladies, on the other hand, can wear formal dresses or a skirt and a shirt. They can also wear formal trousers and other clothing that are formal. High heel and other closed shoes but not sports shoes are also considered official for ladies.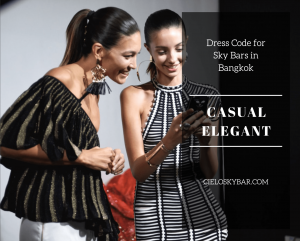 Casual Elegant Dress Code for Sky Bars in Bangkok
Quite a considerable number of rooftop bars in Bangkok allow casual elegant. These include bars such as ThreeSixty bar, Wanderlust Rooftop and HI-SO & Park Society bar. 
What Is a Casual Elegant Dress Code?
How you interpret a call for casually elegant dress largely depends on where you're going to wear it. For men, casual elegant means an elegant look with dark colours — such as a navy suit or slacks with a collared shirt. A belt and mens dress shoes are musts. Women can put on a pantsuit or a dress suit. They can also pull it off with a cardigan or scarf. Other things to consider include women slacks or skirt with a silk blouse. To complete the look, dressy heels or flats and neatly styled hair are musts.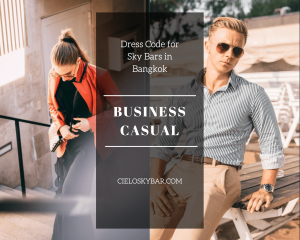 Business Casual Dress Code for Sky Bars in Bangkok
Business casual dress code for sky bars in Bangkok is known to be very common in bars that are usually attended by businessmen and women. An example of places that permit business casual was the Lebua bar. 
What Is a Business Casual Dress Code?
Business casual is a dress code that involves formal business attire but with some few adjustments making it casual. You can enter almost any rooftop bar with a business casual dress code. For men, business casual involves closed shoes, a buttoned-down shirt and slacks. A tie can be optional, but wearing a  belt is a must. Women can put on a pantsuit, buttoned down blouse and closed-toe shoes. 
Dress Code Tips
Most of the dress code sky bar Bangkok is smart casual. There are, however, those that don't specify anything, and so they allow even jeans. Otherwise, there are numerous tips to consider whenever you talk about dress code sky bar Bangkok. 
These include:
If you want to attend almost any rooftop bar, always wear either smart casual, formal, casual elegant or semi-formal.

Once you see no flip-flops or open-toe shoes allowed form men, then conclude that the sky bar is only accessible with people that have smart casual clothes.

Make sure that you avoid wearing backpacks even with smart casual that is because it is not part of the dress code, and you are likely not to enter with the dress code.

If you have kids, worry not. Most sky bars allow kids who are at least four years old.

Avoid carrying luggage like suitcases, shopping bags and gym bags. That is, even if you have the required attire. That is because they are not permitted in most rooftop bars.

Keep in mind that the dress code indicated on the bar is also applicable to children. You should thus refrain from going with children who have sportswear or open shoes.

The sky bar dress code applies to everyone, including those staying at the nearby hotels or hotels within the same buildings.
Bangkok sky bar-restaurants are very popular when it comes to their luxury and elegance. They are also known to have strict dress codes. So far, the above are some of the most famous sky bar Bangkok dress codes. All you have to do is ensure you adhere to the dress code if you want to gain access to any of the sky bar in Bangkok.
Book your dining experience at Cielo Sky Bar & Restaurant today. The stunning highest & happening rooftop dining venue and charismatic dining experiences on Sukhumvit Road perched atop the 46th floor of the Skywalk Condominium.
Contact the restaurant directly on 081 916 4270 where we will do our utmost to assist with your requirements.
We look forward to you experiencing some fresh, fabulous dining experience with us.